Bonchidai Csárda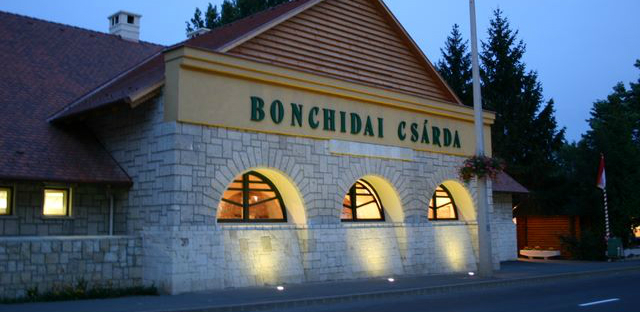 Bonchidai Csarda is located in Tokaj's town center next to the river port. Situated near the town's central parking lot, where the riverside walk begins, the original csarda was built in 1968. Following a complete refurbishment by its present owner a few years ago, the csarda was reopened in the summer of 2004 under the name Bonchidai. The csarda's terrace offers a breathtaking view of the River Tisza, a sight all visitors to Tokaj-Hegyalja must see. Equipped with the latest appliances, Bonchidai Csarda can seat up to 200 guests at a time, all year round. The csarda's air conditioned inner rooms are ideal for conferences, weddings and other social events. Food served at Bonchidai is ranked among the very best in the region. The csarda's excellent equipment and highly qualified staff guarantee that even large groups will get the best quality service. Fish plates, including the famous fish-soup that all visitors to the riverside must try, rank high among house specialties. The csarda offers a comprehensive selection of the wines produced by the best wine makers of the Tokaj region. Internet access is available for all guests. Come and visit us soon in Tokaj-Hegyalja!
Open: Every day 10-22 h
Contact:
---
Adress: 3910 Tokaj, Bajcsy-Zs. E. u. 21.
E-mail: csardabonchidai@gmail.com
Phone/fax: +36 47/ 352 - 632
Phone: +36 20/ 584 - 1758