Holocaust memorial wall, Olaszliszka
Located in the hegyalja region, olaszliszka used to have a fairly large Jewish community. Its the architectural herit- age, the synagogue built by Friedmann hersele (1808– 1874), the famous rabbi of miracles has deteriorated by now to such an extent that it is destroyed now. the me- morial site now constructed here is not only a bow of respect to the victims, a community sentenced to death, but also an architectural-artistic project, which elevates the relics of the former site into the material world.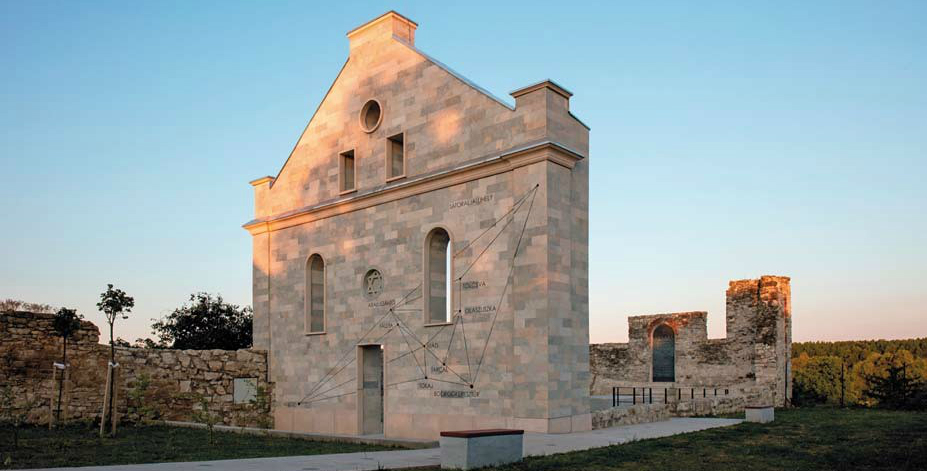 De- signers did not build or close down the site opening up throughout decades with walls or roofs again. By the 21st century it is only certain parts of the eastern wall and the remains of the torah storing niche that have survived.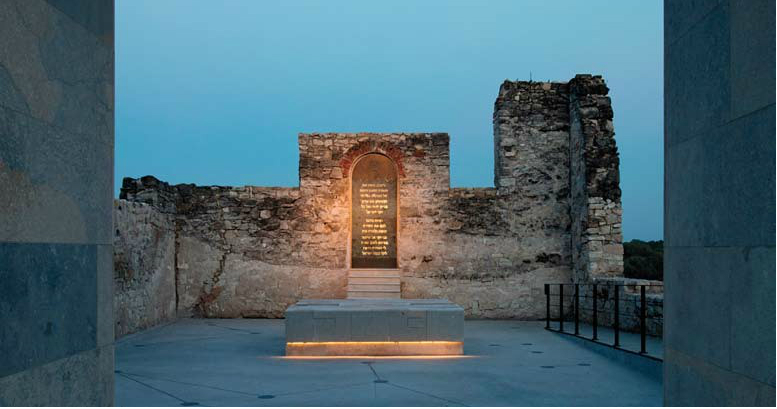 Architects made the original sizes of the building percep- tible by rebuilding the western wall. As a result, visitors can also clearly feel the distinction between the interior and exterior without having the roofing above. In the mid- dle of the surviving eastern wall there is the torah storing niche in which concrete sculpturesque pieces made by Andrea hári and Dóra szeidl evoke the torah curtains: their hebrew-language message focusses on the impor- tance of commemoration: "Write this on a scroll as some- thing to be remembered" (Moses2,17:14). the newly built wall features the names of the 63 families members of which were deported on April 14th, 1944. owing to the illumination of the site at night, even the floor exposed to and under the open skies turns into a metaphor: visitors evoking memories here walk on such an image of the sky where the bright lights showing the constellation of stars actually reveal the act of deporting people: carved into stone here is the constellation belonging to the exact time when this place was deprived of its community.